Сутність і значення розвитку соціальної сфери в Україні
Ключові слова:
сфери суспільства, матеріальне виробництво, потреби суспільства, соціальна сфера, сфера послуг, виробнича діяльність людей, матеріальні і духовні блага, ринкова економіка, соціальне господарство, галузі соціальної сфери економіки
Анотація
У статті розглянута історія виникнення та обгрунтованo економічний зміст соціальної сфери і сфери послуг. Проаналізовані трактування відомих вітчизняних вчених, запропоновано авторське визначення соціальної сфери як складного багатогалузевого комплексу, який утворюють підприємства і установи різних форм власності, більша частина результатів діяльності яких представлена у формі послуг. Визначені чинники, що перешкоджають інноваційному розвитку соціальної сфери України. Розглянуті точки зору відомих вчених на склад галузей соціальної сфери. Залежно від характеру задоволення потреб суспільства, автором запропоновано дві групи галузей соціальної сфери і визначені їх особливості. Освітлені передумови для розвитку соціальної сфери в Україні.
Посилання
Werner Sombart. Selected works. / Sombart Werner // M.: Publishing house "Territory of the Future", 2005. (Series "University Library of Alexandr Pogorelsky ") – 344 p.
Lukashenko S.Y. Resource Management of the social sphere of the municipality [Text] / S.Y. Lukashenko // Young scientist. - 2014. - №10. - P. 253-256.
Babich A.M. and others. Social services in the transition of a market / A.M. Babich. - M.: Economics, 1993. - 220 p.
Varnalіy Z.S. Small bussines in the sphere of the customer services. The book / Varnalіy Z.S., Hmelevska L.P. Hmelevsky M.O. - K.: Knowledge of Ukraine, 2004. - 260 p.
Lyashenko V.I. The regulation of the small business in the development of Ukraine: Problems and Solutions: Monograph / Vyacheslav Lyashenko // Institute of the industrial Economics. - Donetsk, 2007. - 452 p.
Inozemtsev V.L. Broken civilization: scientific publication / Vladislav Leonidovich Inozemtsev // M.: «Academia» - «Science», 1999. – 724 p.
Novіkov V.M. Organіzation and development of social sphere (foreign and Ukrainian experience) / V.M. Novіkov // K .:Economic Іnstitut of Ukraine, 2000.- 246p.
Clark C. The conditions of economic progress. – London, 1940. – P.81
Fourastie J. Le grand espoir du XXe siècle. P., 1949. P. 42, 80-83, 319
Inozemtsev V.L. Outside the economic Society: Scientific publication / Vladislav Leonidovich Inozemtsev // M.: «Academia» - «Science», 1998. - 640 p.
National Income and Product Accounts, 1947-1965. Wash., 1967. Yearbook of Labour Statistics, 1995. Geneve, 1995
Chukhno A.A. Civilizational and formational approach and their role in economic theory and social practice / A.A. Chukhno // Economy of of Ukraine. - 2001. - №6. - P. 39-47.
Maliy I.Y. State and market services in economy / I.Y. Maliy // Theoretical and applied economic issues: Collected Works. B 1 / E.D. Szegdy. - K."Staff", 2002. - P. 56-66.
Abubakirov R.F. Institutional environment of social sphere of modern economy: abstract thesis of dis. ... doctor of economic sciences: 08.00.01 / Rishat Abubakirov; [Place of defence : State university of A.N. Tupolev].- Kazan, 2009.- 42p.
Pylypenko V.E. Economic Sociology: The book / Pylypenko V.E., Gansova E.A., Kazakov V.S.. - K .: MAUP, 2002. - 296 p.
Borisov A.B. Large economic vocabulary / A.B. Borisov. - M.: The Book World, 2003. – 895 p.
Raizberg B.A. Modern economic dictionary / Raizberg B.A., Lozovskiy L.S., Starodubtseva E.B. // the 2- d.rev. - M .: INFRA-M, 1999. - 479 p.
Prokopishak K.V. Development of the village social sphere in the conditions of becoming market relations (on the example of Carpathians region) : avtoref. of the doctor dissert. of economic sciences : 08.09.01 / Kateryna Prokopishak; NAN of Ukraine. Inst.of regional researches – L., 2004. 40 p.
Pesotskaya E.V. Marketing services / E.V. Pesotskaya. - S. Pb.: SantP., 2000. – 160 p.
Levicheva V.F. Material and perfect in public production / V.F. Levicheva, V.F. Sherbina. – SantP., 1984. P. 25-60.
Tsaruk I.M. Theoretical approaches in determination the social sphere as component economy and its functions / of Tsaruk Iryna Mihaylіvna // [Electronic resource]: http://www.nbuv.gov.ua/ejournals/eui/2009_1/09 cimtyf.pdf.
Abubakirov P.F. Competitor features of the social sphere as forming factor of Business - Strategy of the social businesses / P.F. Abubakirov // Today and tomorrow of the Russian economy. Scientific-analytical collection. 2008.№ 20. 0,5 p.p
Handbook of International Trade and Development Statistics, United Nations Conference on Trade and Development, 1993. P. 446.
L'Europe en chiffres. P., 1995. P. 318 25. www.1npf.com.ua/news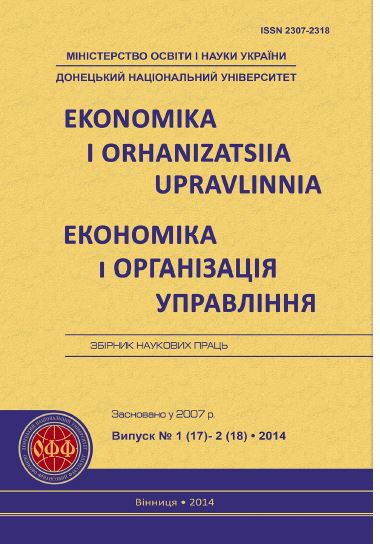 ##submission.downloads##